The Chaos Space Marine or the World Eater Chaos Space Marine is a informally announced class for the Chaos race of Dark Millennium Online.
Known Details
Edit
For Speculative information on the class see: Chaos Space Marine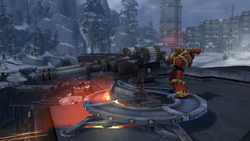 Informal Confirmation
Edit
From David Adam's Interview with GamesReactor.
David Adams: Yeah, we're actually taking the approach to mirroring it per aside, there are two primary factions in the game so it not necessarily mirrored per a race. The idea is that the sides are balanced but the actual composition within each individual, er, race may actually be different so you know there may not necessarily be a Space Marine equivalent in any other race - obviously no other race has Space Marines.
Petter Mårtensson: Chaos has Space Marines.
David Adams: There are some.
Petter Mårtensson: Are there Chaos Space Marines in the game?
David Adams: They're still humans right, so no other race has space marines but yeah.
Petter Mårtensson: So there's Chaos Space Marine playable characters?
David Adams: [smiles] they're in the video.
Petter Mårtensson: That's true, there's a lot of stuff in the video.

References
Edit
---