Health is the total amount of damage that a character or NPC can take before dying. It is referred to as Hit Points (HP) in most games. It is vital for the player to keep track of his or her health score because if their Health total reaches zero, the character will die.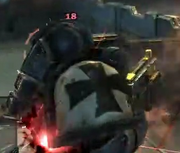 If a shot towards a character is successful the target will take damage, the amount of damage taken will be shown in red. The damage in regards to the enemies total health can be seen above their character and on the
HUI
in greater detail.
[1]
Methods to raise, heal or boost health are currently unknown.
References
Edit
↑ Announcement Trailer at 0:40.
Ad blocker interference detected!
Wikia is a free-to-use site that makes money from advertising. We have a modified experience for viewers using ad blockers

Wikia is not accessible if you've made further modifications. Remove the custom ad blocker rule(s) and the page will load as expected.