Vigil Games strives to be a world-class game development studio that produces high-quality interactive entertainment for a global audience. Our plan to accomplish this objective is simple. We will build an organization that practices strong management and leadership skills to support talented groups of creative people building games through cooperation and teamwork.

~ Vigil Games

Vigil Games is an Austin, Texas based video game development company owned by THQ. It is known for it's production of the Darksiders series and the forthcoming MMO, Dark Millennium Online.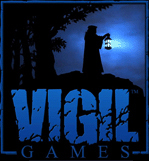 The company was formed by David Adams by Joe Madureira with support from Marvin Donald and Ryan Stefanelli in 2005. It was founded on the dream of " Making an original intellectual property for console systems with a completely new team on cutting edge technology".
Now the company consists of over 120 members, all dedicated on the creation of great games of the highest quality.
Dark Millennium Online
Edit
Soon after being acquired by THQ, Vigil Games started working on the Warhammer 40,000 Dark Millennium Online, a Intellectual Property licensed by THQ for Games Workshop.
Since 2007 to about late 2008 the company has been working on the game engine, adapting it to the MMO format. Now, the project has grown; Vigil is now working on the functional aspects of the game.
Currently, the project is focused on the finalisation of primary zones and development of later zones of the Dark Millennium world.
Other Projects
Edit
Vigil games has also worked on the popular console game Darksiders, released in January 5. It's sequel, Darksiders 2 is planned for a 2012 release.
The Team
Edit
And many more.
External Links
Edit
http://www.vigilgames.com/ -- Official Site
http://en.wikipedia.org/wiki/Vigil_Games -- Wikipedia